Single Tooth Implants – Pittsburgh, PA
Complete Your Smile with a Dental Implant
You probably never expected to lose a tooth, but now you're among the 120 million Americans who are living with an incomplete smile. You don't need to feel embarrassed by the gap. You have more options than ever to replace your missing tooth. Besides a traditional fixed bridge, our office also offers single tooth implants. You can enjoy the next best thing to your real tooth using a solution that's proven to last for a lifetime.
Options for Single Tooth Replacement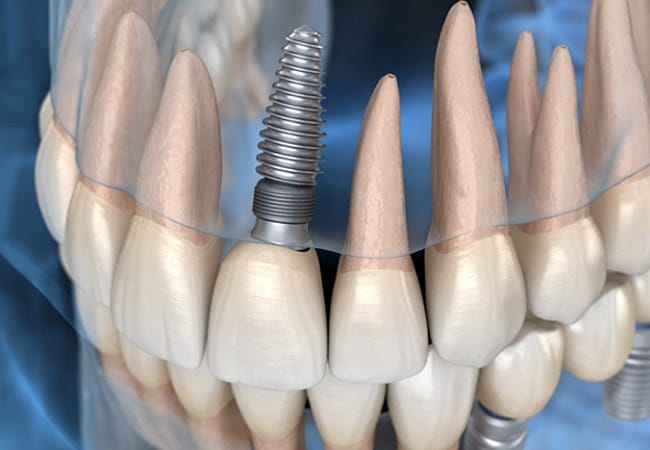 Every tooth in your mouth has a role to support your oral health and functions. Losing even one can cause devastating consequences for your self-esteem and your oral health. Not only will you feel insecure about your new appearance, but there are also complications brewing beneath the surface of your gum tissue.
Your jawbone is slowly shrinking because it isn't being stimulated by the root. As a result, your remaining teeth don't have the support they need, so they will drift out of position. This increases your risk of several new complications, like cavities, gum disease, and additional tooth loss.
If you lose more teeth, your general health may also suffer. You may not be able to maintain a balanced diet because certain foods can become too difficult to chew. As a result, you can develop nutritional deficiencies that can harm your health.
Thankfully, you don't need to live with an incomplete smile thanks to modern dentistry. We can fill the empty space in your smile using an effective treatment, such as:
We take an impression of your mouth to recreate the portion of your tooth visible above the gumline. Your new tooth is carefully crafted from all-ceramic material to match the appearance of your natural teeth. It's secured in place by bonding custom-made dental crowns over the adjacent teeth. This is a convenient solution to fill the empty space. It can last for about a decade before needing to be replaced; however, you'll need to permanently alter healthy teeth.
A dental implant replaces the entire tooth structure, even the root. A titanium implant post is inserted into your jawbone to act as a root. An abutment is placed on the post to connect your custom-made crown. You'll enjoy a solution that can last for a lifetime, but it will take several months to rebuild your tooth.
Benefits of a Dental Implant
Treating the entire tooth structure offers exceptional benefits that aren't possible using a traditional fixed bridge, including:
Over a 95% success rate to last for decades.
Looks natural using all-ceramic material.
Regain as much as 70% of your natural biting force.
Doesn't rely on healthy teeth for support.
Preserves your jawbone to stop dental drift.
Improves your oral health.
Can last for decades with the right aftercare.
Cost-effective because it should never need to be replaced.
If you're ready to enjoy the benefits of a dental implant for yourself, it's time to schedule your consultation to replace your missing teeth. Contact our office today to restore a complete, beautiful smile.