Dental Implants — Pittsburgh, PA
Rebuild Your Smile from the Roots Up
Missing teeth are one of the most common problems we see every day here at Warwick Dentistry, but thankfully, we're able to offer the perfect solution. Led by two dental implant experts, Dr. John and Dr. Joyce are able to literally rebuild an entire missing tooth from the root up using state-of-the-art restorations. With dental implants in Pittsburgh, it doesn't feel like you've just replaced your teeth, but rather that you've gotten your missing teeth back. To learn more about dental implants in Pittsburgh, PA and schedule an in-person consultation, give us a call today.
Why Choose Warwick Dentistry For Dental Implants?
Entire Procedure Completed Under One Roof
Computerized Dental Implant Surgery for Precise Placement
Several Options for Teeth-In-a-Day
What Are Dental Implants?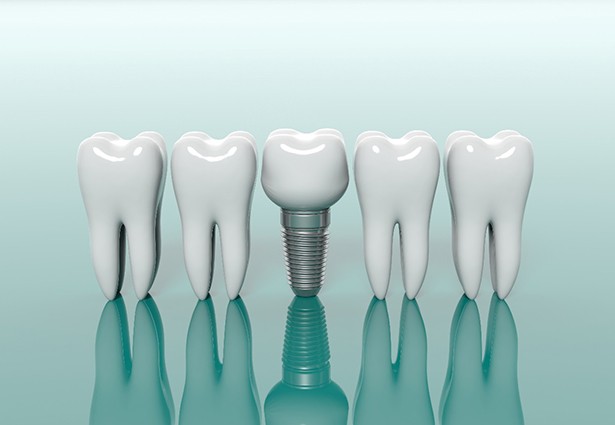 A dental implant is essentially a titanium tooth root that is placed into the jawbone. It is then topped with a brand-new crown, bridge, or denture to bring back the visible portion of the tooth. Most other tooth replacements just bring back the teeth above the gum line, but the lack of a root makes them much less stable and liable to wear down quickly. Because implants bring back an entire tooth, patients enjoy more stability and a better appearance.
The 4 Step Dental Implant Process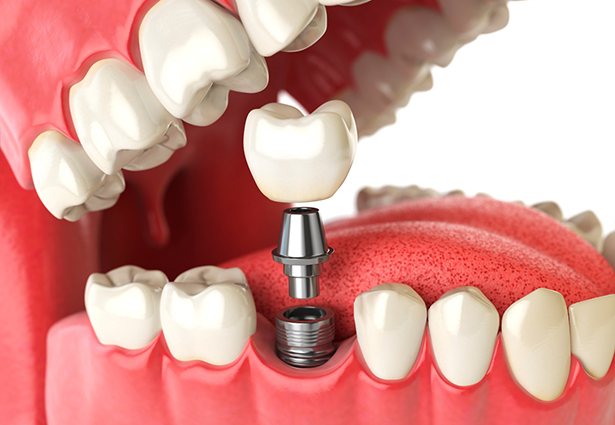 When you go to most dental offices to get dental implants, you don't actually have the procedure completed there. Instead, patients are usually referred to other doctors for the different phases of the treatment, which involve surgically placing the implants and then topping them with the new teeth. At Warwick Dentistry, we take care of everything ourselves. Both Dr. John and Dr. Joyce are able to handle the entire implant procedure from start to finish, helping patients get everything they need in one convenient location. To provide additional insight into how dental implants work in Pittsburgh, review the following information and contact us with any questions or concerns you might have.
Initial Dental Implant Consultation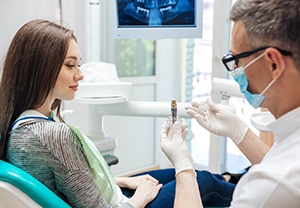 Your initial consultation with your implant dentist in Pittsburgh will include a full examination as well as a thorough discussion of your medical history. Dr. John or Dr. Joyce will review your oral and overall health as well as your jawbone density to identify whether you are a prime candidate for treatment. It may be necessary to undergo preliminary care prior to receiving your dental implants should you show signs of gum disease, severe dental decay, or jawbone deterioration.
Dental Implant Surgery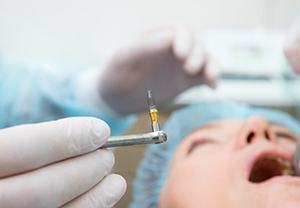 Because the dental implant surgery is performed in-house, you will not need to worry about seeing an outside specialist for the surgical component of the process. This makes it easy and convenient, as you'll continue to receive care from the same familiar faces. When arriving for your surgery, you'll receive local anesthesia before our team begins to place each dental implant. Once positioned correctly within the bone, the gum tissue will be closed, and you'll return home to recover.
Dental Implant Osseointegration/Abutment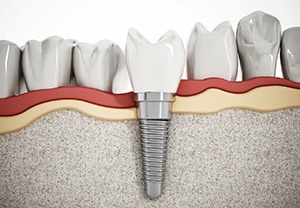 During the 3–6-month span of time, your gums and bone will need to heal properly. Over time, osseointegration will occur, causing the bone and implant to fuse and create a solid base for your new teeth. Once you are fully healed, you'll return to have your metal abutments put into place, as they will connect your implant to your customized restoration.
Delivery of Dental Implant Restorations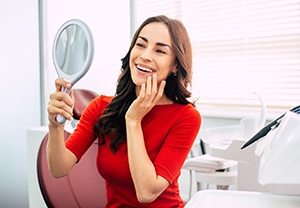 Receiving your customized crown, bridge, or denture is the most exciting aspect of dental implant placement. Designed to comfortably fit and blend in with your existing smile, you will be unable to tell the difference between your real and artificial teeth. You'll also begin to enjoy the functionality your dental implants in Pittsburg provide. With the help of these permanent prosthetics, you'll eat, speak, and smile with greater ease and boosted confidence.
Benefits of Dental Implants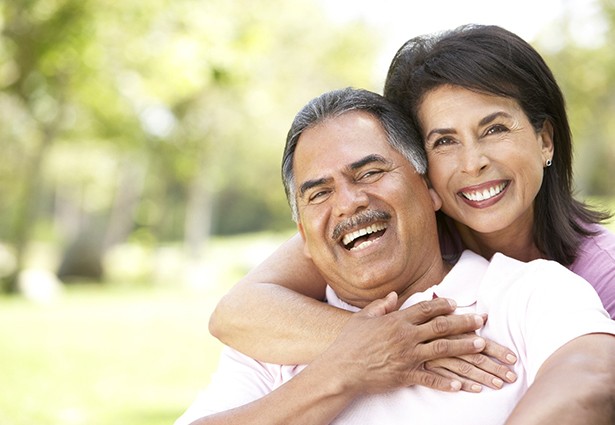 Nowadays, you have plenty of options to choose from to replace your missing teeth. So why are dental implants widely considered to be the new gold standard by both dentists and patients alike? It's their ability to replace the entire structure of a missing tooth from root to crown that sets them apart. This unique construction makes them virtually indistinguishable from natural teeth in every way and offers a bevy of important benefits for your quality of life that other options simply can't. Take a look at just a few of the ways dental implants can improve your health, confidence, and long-term wellbeing that our patients love.
Day-to-Day Benefits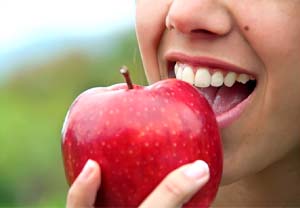 Enjoy a completely natural-looking smile. With our high-quality, custom-made restorations, your new teeth will blend in seamlessly with the rest of your smile.
Eat all your favorite foods and drinks without worry. Dental implants can restore 70% or more of your natural biting force, allowing you to eat all the steak, apples, and nuts you'd like. Plus, hot soups and beverages won't warp dental implants like dentures.
Care for just like natural teeth. Maintaining your dental implants is as easy as practicing good oral hygiene habits like routine brushing, flossing, and dental checkups.
Rely on your comfortable and stable smile. Dental implants won't cause gum irritation or slip around in your mouth. You can count on them to stay firmly in place as you laugh, talk, eat, and go about your daily life.
Health Benefits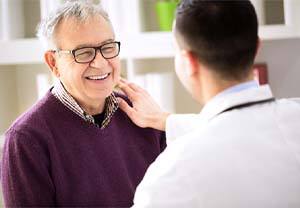 Keep your gums and remaining teeth healthy. Dental bridges weaken healthy teeth and dentures can cause gum sores. Dental implants don't rely on surrounding teeth or gums for support, making them the healthiest choice for your mouth.
Lower your risk of oral health issues. Since dental implants don't trap food debris and bacteria as easily as dental bridges and dentures do, you can expect a dramatically lower risk of oral health issues like gum disease, dental infections, and cavities.
Maintain a strong, healthy jawbone. Dental implants are the only tooth replacement option to stimulate the jawbone and prevent its deterioration after tooth loss. Not only does this keep your jaw strong, but it prevents the sunken, aged appearance that accompanies missing teeth.
Keep your remaining teeth in place. Stimulating the jawbone will also keep the supporting bone tissue around your remaining healthy teeth strong, which will help prevent further tooth loss.
Long-Term Benefits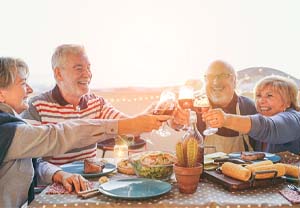 The longest-lasting tooth replacement available. While dental bridges and dentures need to be replaced every few years, dental implants demonstrate a 95% success rate 10 years after placement. With the proper care, most patients can expect their dental implants to last a lifetime.
Stay healthy into your golden years. Studies suggest that maintaining good oral health and replacing missing teeth with dental implants can help lower your risk of health conditions like diabetes, memory loss, and heart disease. Some studies even report that the more teeth you have by the age of 70, the more likely you are to live longer!
Dental implants pay for themselves. While dental implants have a higher upfront cost than other tooth replacement options, they will never have to be replaced. This could save you thousands of dollars in repairs and replacements alone! Plus, dental implants will lower your overall healthcare and oral healthcare costs as well. But most importantly, patients report that you can't put a price on the confidence and peace-of-mind that dental implants can restore.
Who Dental Implants Can Help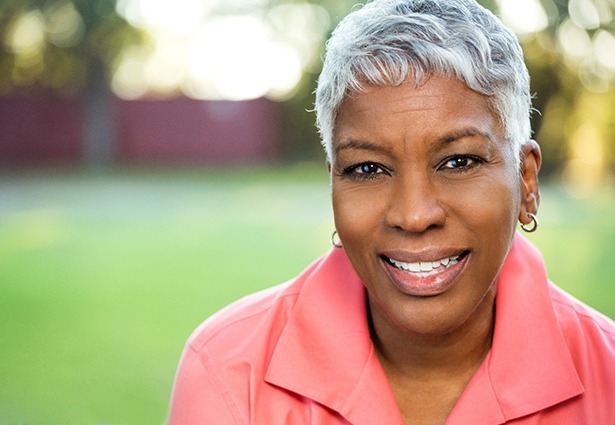 One of the best parts about dental implants is that they can be used to restore any number of teeth, so whether you are missing one, a few, or even all of them, our team can put together a plan to bring back your smile. When meeting with your dental implant dentist in Pittsburgh, you'll discover your chances of being cleared for treatment are pretty good, even if you need preliminary procedures first. We'll make sure your oral health is in optimal shape for successful implant placement later on.
Who is a Good Candidate for Dental Implants?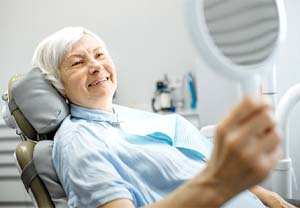 Most patients suffering from tooth loss may feel as if traditional dentures or dental bridges are the only viable solutions. Fortunately, this is not the case. Dental implants in Pittsburgh offer a more permanent way to restore smiles by replacing missing teeth. However, because they do require a more invasive procedure, it is necessary for you to be eligible for this type of treatment.
When meeting with your implant dentist, you can expect us to evaluate three key areas before determining the appropriate next steps:
Your oral health : You will need to be free of dental decay and gum disease before moving forward. If we discover these signs during your consultation, you'll be required to undergo periodontal therapy or even tooth extraction if the decay is severe enough.
Your overall health : Minor oral surgery is necessary, so you'll need to be in good enough general health and not possess any autoimmune disorders or diseases that may hinder your ability to heal effectively and avoid implant failure.
Your jawbone: The jawbone is essential for successful implant placement, as it serves as the foundational support. If lacking in jawbone density, and you prefer implant dentures, you'll need a bone graft or sinus lift. However, you may also qualify for All-On-4 or TeethXpress.
Missing One Tooth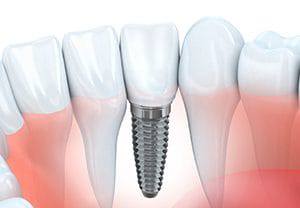 If you are one of the more than 120 million Americans living with a single missing tooth, you probably understand the difficulties that come with eating, speaking, and smiling. Depending on its location, you may struggle to feel confident in your appearance because of your incomplete smile. The good news is it can be replaced with a single dental implant. A dental implant root is placed between two healthy teeth and topped with a custom-made crown. This will seamlessly close the gap, and the new tooth will be self-supporting, meaning it won't put pressure on the nearby teeth or gum tissue.
Missing Multiple Teeth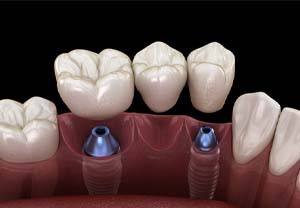 If you are missing two or more teeth, you do not have to worry about altering your healthy teeth to hold a dental bridge in place. Instead, we can position a small number of implant roots that will be used to secure a partial denture or bridge to the jawbone. This will give these prosthetics strength and stability you just can't expect from regular, removable ones.
Missing All Teeth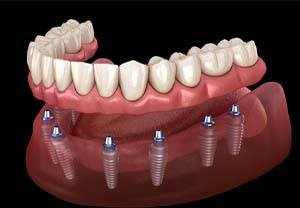 If you are missing all of your teeth and want to avoid traditional dentures, your implant dentist in Pittsburgh can recommend implant dentures. All it takes is just four to six well-placed dental implant roots to restore an entire row of missing teeth. Once the implants are positioned within the bone, they are attached to a full denture. Implant dentures are smaller than traditional ones, making for a more comfortable fit, but they also allow for a stronger bite. This enables a patient to eat whatever they like with complete confidence.
All-On-4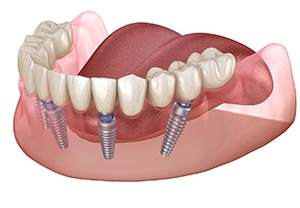 Our dental office proudly offers Teeth-in-a-Day procedures, including All-on-4 and TeethXpress. If your jawbone lacks the density it needs and you want to avoid a bone grafting procedure, we can identify the densest areas of your jawbone and place four implant posts for maximum stability. Two are placed toward the back at a 45-degree angle while the other two are placed toward the front. If possible, we may also be able to provide you with your new teeth the same day as your surgery.
TeethXpress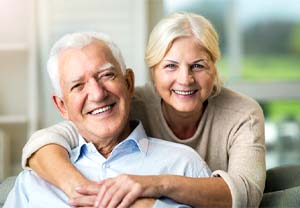 If you want your new smile the same day as your implant placement procedure, you'll want to talk to us about TeethXpress. Considered an "immediate-load" type of surgery, we may use any number of dental implants posts to hold your new teeth in place. One of the greatest aspects of TeethXpress is that your surgery will only take a few hours, and you won't have to go through recovery without teeth!
Understanding the Cost of Dental Implants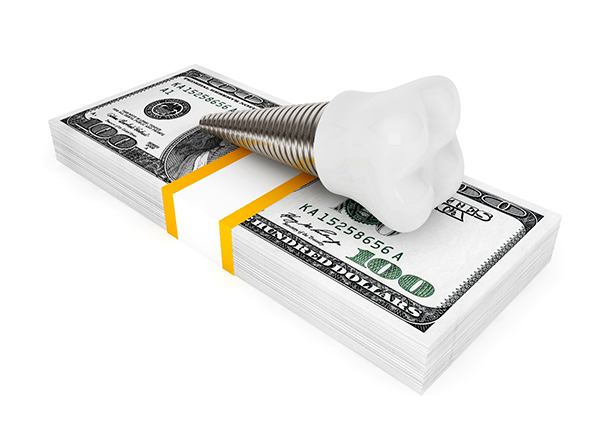 Many patients hesitate to invest in dental implants because they aren't sure whether the treatment is worth the up-front cost that is higher than other tooth replacements. However, it's important to consider the long-term benefits that dental implants provide for your oral health and overall quality of life. Not to mention, implants can potentially last a lifetime, making them a smarter investment over time. Our team at Warwick Dentistry is more than happy to provide options for making the cost of dental implants in Pittsburgh as affordable as possible.
Preliminary Treatments & Dental Implant Surgery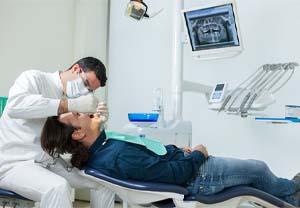 Gum disease therapy, tooth extractions, and bone grafting are all examples of preliminary procedures that patients commonly need before dental implant surgery. Although these treatments add to your overall costs, they're essential in making sure your new smile stands the test of time.
The surgical placement itself also incurs its own cost, which varies based on the location of the implants in your mouth as well as the degree of sedation or anesthesia you're receiving. On the bright side, Dr. John and Dr. Joyce can conveniently handle every step of the dental implant process in-house, saving you the expense of visiting an outside specialist.
The Parts of Your Dental Implant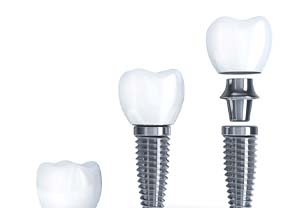 A dental implant is made of three parts, each of which can impact the cost in several ways:
Implant post – This can be made from various materials and come from various manufacturers, which come with different prices. The location of the implant in your jaw also determines how long or short the post will be.
Abutment – Like implant posts, connecting abutments can also be made from several types of materials.
Restoration – Depending on the number of teeth you're replacing, you might need a dental crown, bridge, or denture to complete your smile. Generally, the larger restorations cost more than the smaller ones.
How Dental Implants Can Save You Money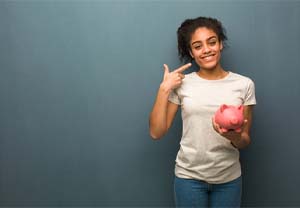 You might be tempted to choose a dental bridge or denture due to its lower price. However, the one-time cost of dental implants can actually be more cost-effective in the long run because:
You won't need to pay to replace your prosthetic every five to ten years as you would with a denture or bridge.
You won't have to purchase special adhesives or cleaning solutions to care for or secure your new teeth.
Since dental implants stimulate your jawbone and are easy to clean, they help you avoid gum disease, jawbone deterioration, and other oral health issues – as well as the costs of treating them.
Does My Dental Insurance Cover Dental Implants?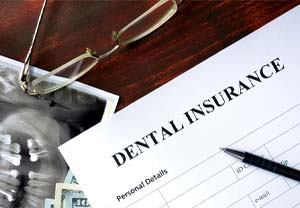 At Warwick Dentistry, we welcome patients with dental insurance and are happy to file claims on your behalf to help you maximize your benefits. We're even in-network with in-network with Delta Dental, UPMC, and MetLife. However, many companies don't cover the cost of dental implants or their surgical placement. That being said, your plan might cover other portions of the treatment, such as your restoration.
Making Dental Implants Affordable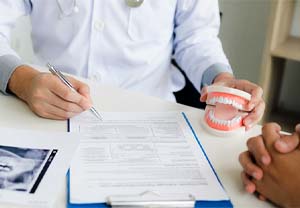 If you need assistance fitting your dental implant costs into your budget, our practice offers easy, hassle-free financing through CareCredit. Since this company offers multiple low- to no-interest payment plans to choose from, it should be a snap to find one that suits your needs. A member of our team would love to help you with the application process.
Dental Implant FAQs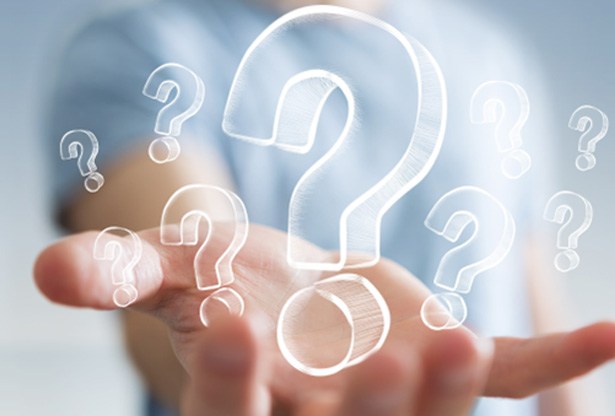 If you have a few concerns about getting dental implants in Pittsburgh, don't worry! They are a big investment. Your implant dentist at Warwick Dentistry will explain everything during your consultation. Here are the answers to the most frequently asked questions to help calm your nerves.
Can I Take Dental Implants Out?
Dental implants are meant to serve as a lifelong solution for tooth loss. Titanium posts are surgically placed into your jawbone to act as new tooth roots. Your jaw will fuse to them through a process called osseointegration. Therefore, you cannot take them out on your own. Only your implant dentist in Pittsburgh can remove them. However, some implant dentures can be removed for easier cleaning.
Does It Hurt to Get Dental Implants?
The process of getting dental implants does involve oral surgery, but you don't have to worry about a painful day in the dentist's chair. Your implant dentist will use a sedative or anesthetic to block any pain, so you won't feel anything during your surgery. While you won't have any discomfort during your procedure, it's normal for your mouth to be a little tender for a few days after the effects of any numbing agents dissipate. You can manage any discomfort by taking an over-the-counter pain reliever and applying a cold compress. Your dentist will also recommend eating soft foods until after adequate healing has occurred./p>
How Long Do Dental Implants Last?
Dental implants have over a 95% success rate and are proven to last for 30 years or more with the right care. However, many factors affect their lifespan, like the quality of the materials used and the location of the implant. Back teeth undergo more wear and tear naturally, so implants used for molars can have a slightly shorter lifespan than those in the front. Nonetheless, you'll never have to budget for replacements with good oral hygiene habits at home and regular care from your dentist. It's also important to break any bad habits that can lead to dental implant failure, like smoking, using your teeth as tools, or chewing on your fingernails. Ask your dentist for a nightguard if you suffer from bruxism.
What Are the Signs of Dental Implant Failure?
The risk of dental implant failure is less than 5%, but it's important to watch for any signs of complications. Quick treatment is essential if you develop red, swollen, or bleeding gums. Pain when placing pressure on the implant is also an indicator that you need to contact your dentist. Do not wait for an appointment or a minor concern can lead to a big problem.
What Are the Signs of Dental Implant Failure?
The risk of dental implant failure is less than 5%, but it's important to watch for any signs of complications. Quick treatment is essential if you develop red, swollen, or bleeding gums. Pain when placing pressure on the implant is also an indicator that you need to contact your dentist. Do not wait for an appointment or a minor concern can lead to a big problem.
After your jaw has fused to the implant, it should never feel loose. If your implant wiggles or doesn't feel as stable, it can be a sign of a serious issue that can ultimately cause your implant to fail. However, it can also be a simple fix, like a damaged restoration. Don't take the risk. Contact our office right away if your implant is loose.
Maintaining & Caring for Your Dental Implants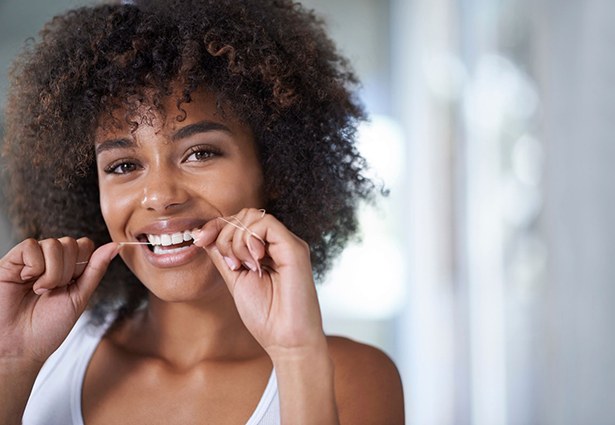 The best way to make sure your new teeth last for decades to come is to take good care of them. Luckily, dental implant care in Pittsburgh isn't all that different from caring for natural teeth! For the most part, all you need to do is commit to daily oral hygiene, routine dental checkups, and a healthy diet – and protect your smile from injury and bad habits. Dr. Jack and Dr. Joyce want you to enjoy your new teeth for a lifetime, so if you have any additional questions about caring for your dental implants, please don't hesitate to ask them!
Make Oral Hygiene a Priority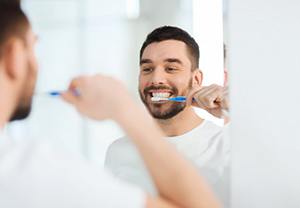 Yes, it's true that dental implants can't get cavities, but your remaining natural teeth still can. Even if you don't have any real teeth left, you can't afford to skip out on your oral hygiene routine. It could easily cause you to develop gum disease, which is actually the most common reason why dental implants in Pittsburgh fail. To keep harmful bacteria in your mouth to a minimum, be sure to brush your teeth (real and implants) twice a day and floss at least once every day, ideally right before bed. Rinsing with an antibacterial mouthwash can also help by targeting bacteria in parts of your mouth that your floss and toothbrush can't reach.
Eat a Healthy Diet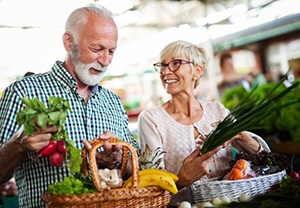 Indulging in a bag of potato chips or a bowl of ice cream every now and then is fine, but don't make it a habit. Too much sugar and starch can make it easy for plaque to accumulate on your gums and teeth, compromising your implants. Eat these foods in moderation and get plenty of fruits, vegetables, leafy greens, and dairy products in your diet – they contain valuable nutrients that promote healthy gums, teeth, and bones.
Break Bad Habits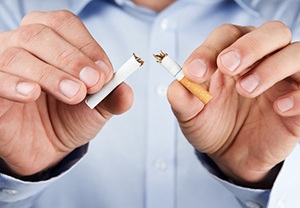 Almost all of us have a bad habit that we need to quit. Many of these habits – like smoking, chewing on pens, eating ice, or opening containers with your teeth – can spell disaster for your smile. After spending so much time and money on replacing your missing teeth, the last thing you want is for a harmful habit to damage them. Protect your investment by doing your best to kick these habits.
Protect Your Dental Implants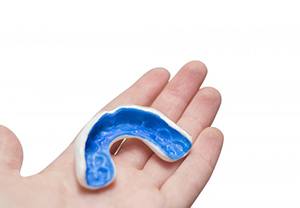 If you like playing sports or tend to grind your teeth, ask your implant dentist in Pittsburgh about a custom mouthguard. These oral appliances are personalized to comfortably fit over your teeth, shielding them against sports-related injuries as well as wear and tear from chronic teeth grinding. By wearing a mouthguard, you can protect your dental implants and remaining teeth from severe damage.
Schedule Regular Dental Checkups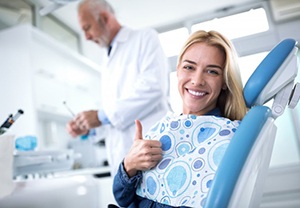 Last but certainly not least, make sure to keep up with routine dental checkups and cleanings. At these appointments, which should take place at least once every six months, our dentists will check for signs of decay in your natural teeth as well as gum disease or other issues that could harm your implants in the future. That way, we can stop these problems in their tracks and keep your smile in pristine condition for years to come!