Advanced Dental Services & Technology – Pittsburgh, PA
Old School Service, State-of-the-Art Dentistry
Since we first opened our doors in 1989, dental technology has evolved tremendously, and Warwick Dentistry has worked hard to stay on the leading-edge so our patients can always benefit from the most modern dental care available. Here, our handheld cameras make your exams more informative and effective, soft tissue lasers allow us to treat your gums quickly and painlessly, and digital X-rays help you save time and radically reduce radiation exposure. Combined with our traditional approach to customer service, it's no wonder we've been around so long! Schedule an appointment today to come experience our state-of-the-art care for yourself.
Intraoral Cameras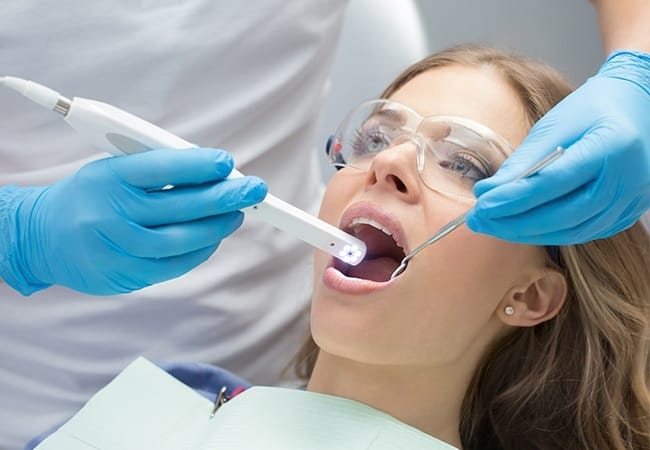 Nothing will get past us during your routine exams thanks to our intraoral camera. This device is no bigger than a pen, and we can use it to take highly-detailed, close-up images of your entire mouth, including the parts that are hidden from the naked eye. Displayed on a nearby monitor, these images allow us to spot even the slightest hint of a dental problem so we can take care of it right away. You'll also finally be able to see your smile from your dentist's perspective, making it easier to understand your oral health.
Intraoral Scanner
Instead of making you hold some uncomfortable putty in your mouth for several minutes (which can be especially problematic for those who have an overactive gag reflex), we can use an intraoral scanner to take a virtual impression of your mouth. This process takes far less time – only about a minute and a half – and the results tend to be far more accurate. Our office uses a Medit i500 Scanner that offers reliable results and highly efficient scan speed.
Digital X-Rays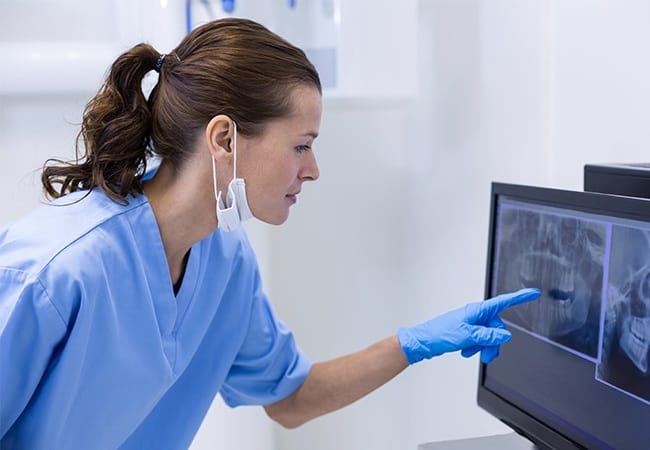 X-rays enable our team to catch potential cavities, infections, and even cancer that might be hidden below the gum line, and since upgrading to digital, this tool has become even more effective in our dental office. Digital X-rays are able to capture crystal clear images and display them in seconds, saving a lot of time compared to traditional film, and they emit 90% LESS radiation, which is great news for both our patients as well as our team.
Cone Beam CT Scanner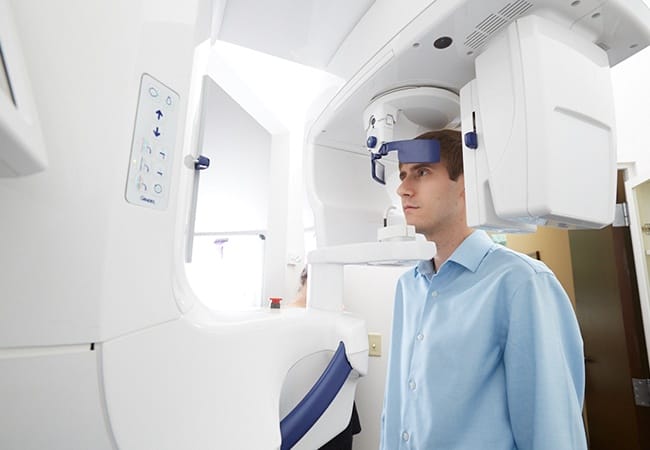 Digital X-rays are a valuable part of the diagnostic process, but their scope can be somewhat limited in certain cases, especially when planning advanced treatments like the surgical placement of dental implants. That's where the Cone Beam CT comes in. This revolutionary machine generates exhaustively detailed, three-dimensional (3-D) images of dental structures, soft tissues, and even facial nerve paths so that absolutely nothing is left up to chance.
Hard Tissue Laser Dentistry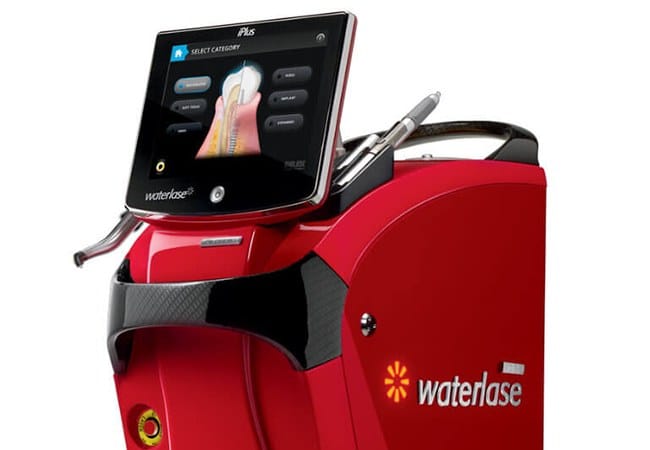 Hard tissue lasers have countless important purposes in the dental office. Our team can use them to precisely remove areas of dental decay while preserving parts of the healthy tooth that remain. They're also helpful when providing root canal treatment, promoting faster healing times. Our patients no longer have to worry about a "drilling" sound or unpleasant sensations. In fact, in many cases, you won't even need any numbing to undergo a procedure comfortably.
Soft Tissue Laser Dentistry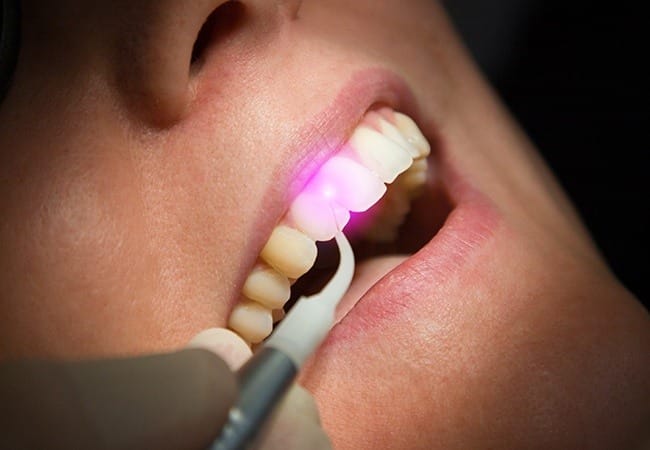 Treating gum disease used to involve incisions and sutures, but thankfully, we're now able to tackle infections in a much less invasive way. A handheld soft tissue laser exposes the gums to a highly-concentrated beam of light which instantly vaporizes any harmful bacteria while leaving the gums themselves untouched. The process is fast, precise, and extremely comfortable, so much so that most patients don't even need local anesthetic for the procedure.
Dental Piezosurgery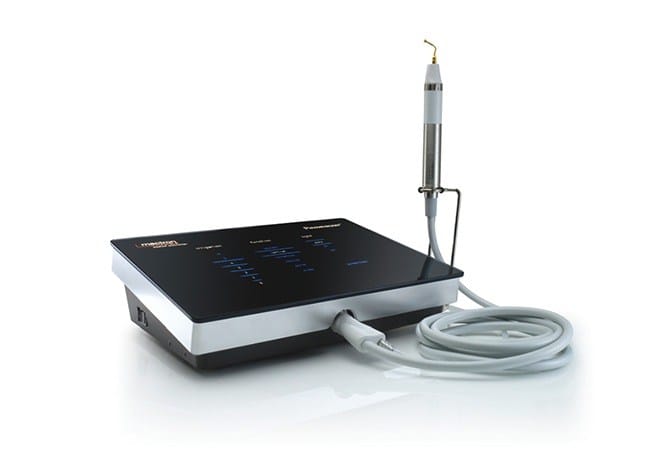 Many patients need to undergo a bone graft before they can get dental implants, and to perform this type of procedure, we use an approach called Piezosurgery. A special handheld tool uses ultrasonic vibrations to cut bone in a way that is much less traumatic to the tissue. It doesn't affect the surrounding soft tissue and allows for more precision, which leads to faster healing and a more comfortable recovery process for the patient.
TekScan Bite Analysis
When diagnosing a bite problem, it's important to identify any imbalances that are placing excessive pressure on certain teeth. Our dental office uses Tekscan technology, which comes in the form of a handheld device that the patient can bite down. This creates highly detailed digital readings of their biting force along the entire mouth, making it easy to pinpoint dysfunctional areas and formulate a highly personalized treatment plan.
Joint Vibration Analysis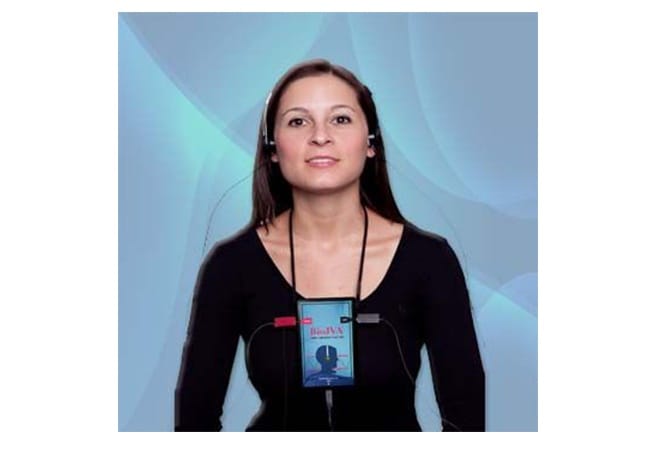 If you're struggling with TMJ disorder, our team may recommend undergoing Joint Vibration Analysis. Jaw joint vibration occurs when the cartilage disc that cushions the TMJ becomes caught between the jawbone as the mouth opens and closes. This is what causes the constant clicking and popping noises you hear throughout the day. For the analysis process, we will use a device that looks like headphones to pick up vibrations and also pinpoint their severity, which will help with planning future treatment. It only takes minutes!
Jaw Tracker
The JT-3D (also known as a "Jaw Tracker") is another important diagnostic tool for analyzing jaw movement in a new, dynamic way. The device rests on the patient's head and captures very precise measurements without even causing uncomfortable contact with the nose, eyes, or mouth. We'll be able to better understand what happens when the patient chews, speaks, and swallows, as well as what their overall range of motion is like.
Ozone Therapy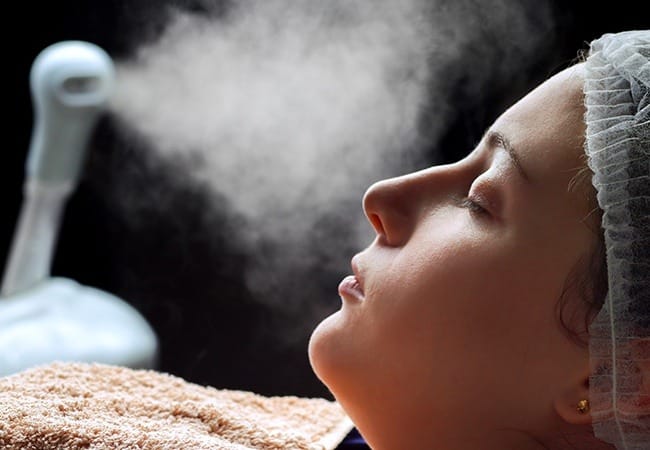 Ozone therapy allows us to treat minor cavities without any drilling or anesthetic, and it often allows us to remove tooth decay and not need to place a filling afterward. It involves exposing an infected tooth directly to enriched oxygen, or O3. This naturally kills the bacteria without harming the healthy enamel and enables us to preserve as much of the tooth as possible. Afterward, a patient won't experience any discomfort or swelling, making this one of the gentlest treatments available.