Full Mouth Reconstruction – Pittsburgh, PA
We Can Help You Smile Again
Are you missing several teeth or suffering from severe decay? Has an accident or injury left you with dental problems you feel might never be solved? Don't let embarrassment stop you from seeking the treatment you need and deserve. With more than 30 years of experience, Drs. John and Joyce Warwick can help patients who need advanced care achieve optimal oral wellness through full mouth reconstruction in Pittsburgh, PA.
Why Choose Warwick Dentistry for Full Mouth Reconstruction?
Trusted by Pittsburgh for More than 30 Years
All-Inclusive Dental Implant Care
State-of-the-Art Approach to Dentistry
What is a Full Mouth Reconstruction?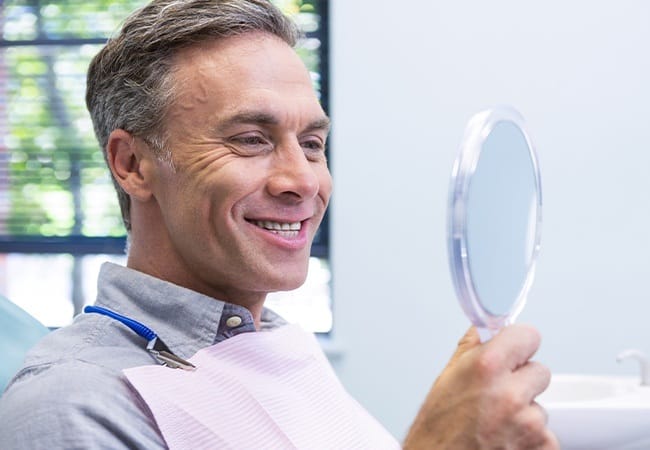 Our leading-edge dental office offers modern treatment options with a sensitive and caring approach. We provide a thorough exam and assessment and then discuss your expectations. Depending on your treatment plan, it may be necessary to provide your treatment in phases to maximize your results.
By providing a combination of restorative dentistry and cosmetic dentistry procedures, we can meet your individual needs and create a beautiful smile you'll be proud to show off. Though it might be difficult to seek treatment, know that we admire your decision to prioritize your oral healthcare. Together, we can achieve your oral health and aesthetic goals
Enjoy a fusion of high-tech and high-touch at Warwick Dentistry. Dr. John Warwick and Dr. Joyce Warwick provide general and cosmetic dentistry in the heart of downtown Pittsburgh. Whether you'd like a consultation, a comprehensive exam, or a second opinion visit, we deliver outstanding service and one-on-one care. Contact us to schedule your visit to our Bank of New York Mellon Center dental office today.