Dentures – Pittsburgh, PA
Rebuilding Smiles with High-Quality Solutions
Losing even a single tooth can make everyday life challenging. If you're missing most or all of your pearly whites, you probably have difficulties speaking clearly, chewing tough foods, and smiling with confidence. Luckily, you don't have to suffer through these consequences forever! At Warwick Dentistry, Dr. Joyce and Dr. Jack Warwick offer lifelike, comfortable dentures in Pittsburgh, PA to help you complete your smile. If you're ready to enjoy a personalized tooth loss solution, please call our office to find out more!
Why Choose Warwick Dentistry for Dentures?
Two Dentists with 30+ Years of Experience Each
State-of-the-Art Dental Technology Used
Implant Dentures Placed In-House
Who Is a Good Candidate for Dentures?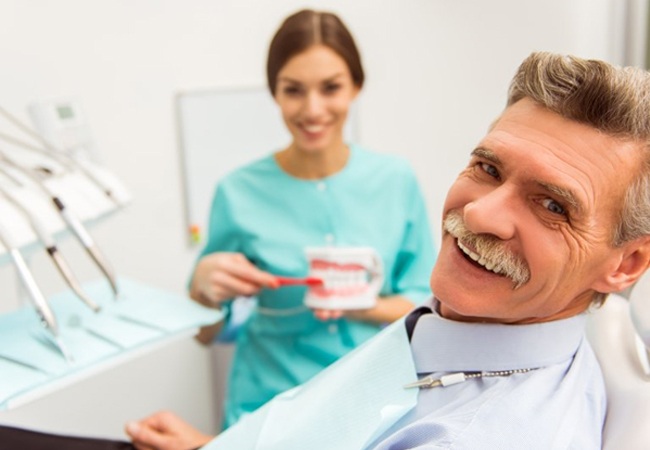 Whether you're missing several teeth or an entire arch, the vast majority of adults who are dealing with tooth loss make good candidates for dentures. To make sure you're eligible for one of these custom-made prosthetics, our dentists will closely examine your mouth and discuss the current state of your oral health. If we detect any problems, such as gum disease or decay in your remaining teeth, we'll devise a treatment plan to ensure your new smile will be as healthy and beautiful as possible.
Types of Dentures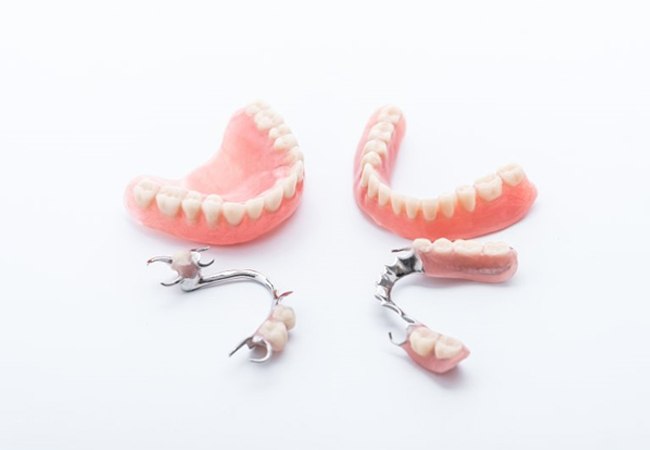 Because dental technology has come so far in the past few decades, today's dentures look more realistic and restore more biting and chewing function than ever before. Your dentist in Pittsburgh will recommend one of the following types of dentures based on your specific needs and preferences.
Full Dentures
As its name suggests, a full denture is designed to replace a whole arch of teeth at the same time. A row of custom-made teeth is attached to a pink base that sits on top of the gums and stays in place via natural suction and possibly a small amount of denture adhesive. Full dentures are removable so that you can easily clean them.
Partial Dentures
Patients who still have some healthy teeth remaining may benefit from a partial denture. Like full dentures, partials are removeable and consist of a gum-colored acrylic base and several artificial teeth. The main difference is that a partial fills the gaps in your grin using a metal clasp that is attached behind your real teeth. Others shouldn't be able to tell which teeth are natural and which are the denture!
Implant Dentures
For added security and a longer lifespan, full or partial dentures can be anchored onto dental implants that are surgically placed in the jaw. These biocompatible posts stimulate the jawbone from the inside, preventing the bone loss that often occurs after teeth go missing. They also keep your prosthetic firmly in place at all times. They can be removable or fixed in placed depending on your preferences.
The Benefits of Dentures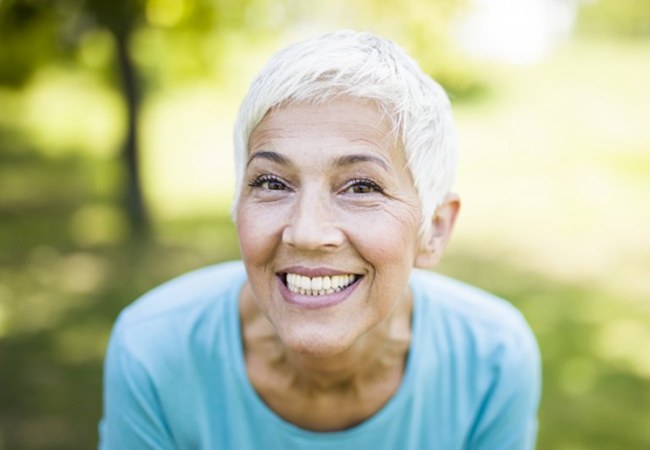 You'll be happy to learn that there are plenty of benefits you can look forward to when you replace your missing teeth with dentures in Pittsburgh. These include:
A tried-and-true tooth replacement method that has restored millions of Americans' smiles.
Support for your facial structures that help you maintain a youthful glow.
A prosthetic that fills the empty spaces in your smile, preventing your remaining teeth from shifting out of alignment.
Replacement teeth that are easy to care for.
Boosted self-confidence.
Easier eating.
An affordable, non-invasive tooth loss solution.