Meet Our Dental Team – Pittsburgh, PA
Ready to Provide Concierge-Level Dentistry
Just like our dentists, our team is ready to do everything they can to help you smile. They have the amazing ability to help patients feel right at home even if it is their first time coming to see us. They'll check you in quickly, ensure you feel nice and comfortable in the dental chair, and always have answers to your questions. They look forward to welcoming you into our dental office, and you can start getting to know them by reading on below.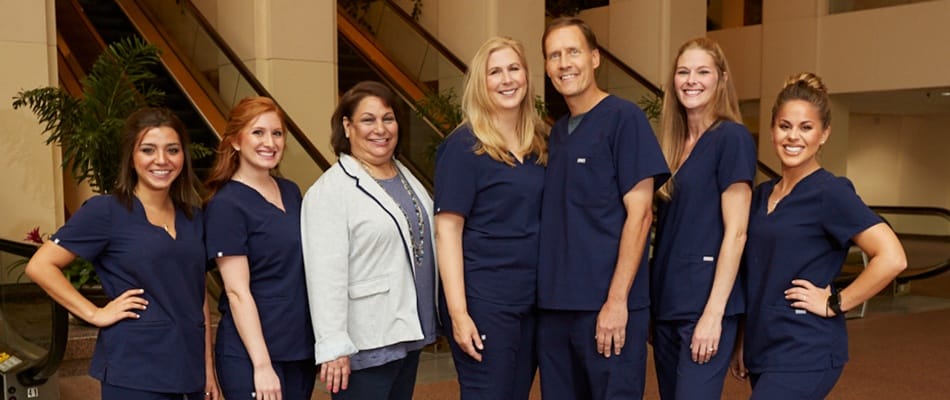 Cindy, Office Manager
Cindy's career in dentistry covers an amazing 40 years so far! She studied dental hygiene at the University of Pittsburgh. Today, what she enjoys most about her role as our dedicated office manager is getting to know all of the wonderful patients. She loves sharing her dental experience and knowledge with them in the form of education. She also gets lots of satisfaction when she successfully troubleshoots a concern with dental insurance.
When it comes to Cindy, our doctors love that she has a big heart and truly cares about each patient who walks through the door. She's always going the extra mile to make sure the insurance companies pay their fair share, which is amazing!
Cindy and her husband Miles have been married for over 35 years, and they have a daughter named Erica who is currently in nursing school at UPMC Mercy, as well as another daughter named Sara who works as a personal injury attorney in downtown Pittsburgh. Sara is a very talented artist, and Cindy loves sharing photos of her artwork with patients. As for personal hobbies, she enjoys spending quality time with loved ones, watching musical theater, shopping, and being crafty with various bedazzling, clothes, and jewelry projects. She's an avid Bruce Springsteen fan too, having seen him countless times in concert. She's even had the opportunity to meet him once and was speechless, which is very out of character for her. Here's an interesting fact about her: she LOVES poodles, and her family has owned 16 of them over the years.
Lauren, Registered Dental Hygienist
Lauren has been a member of our team for nearly five years now, and she loves the environment of the dental office, especially the coworkers! Everyone truly feels like a family that works well together and can have fun at the dental office together; plus, everyone is dedicated to staying up-to-date and educated about the most cutting-edge technology. She has her Bachelor of Science from the University of Pittsburgh and a Master's in Education from Gwynedd Mercy University.
Our doctors love that you can tell that Lauren has a degree in education right away! She's always ready to teach each patient about the importance of oral health, and her exceptional knowledge of all aspects of dentistry shines through at every appointment. Her careful, detailed nature is a perfect fit for Warwick Dentistry.
Lauren and her family are from Pittsburgh originally. She met her fiance while attending the University of Pittsburgh, and today, they reside in the South Hills with their 110-pound dog Pablo. Outside of working hours, she loves traveling and enjoying relaxing beach vacations. Her other hobbies include exercising, dancing, kayaking, lifting weights, biking, and generally staying active outdoors. Here's an interesting fact about her: she's been skydiving before!
Michaela, Registered Dental Hygienist
Michaela is a relatively new addition to the Warwick Dentistry team, but she's already so proud to work with amazing people who share her same mindset and passion for the field! Dr. Jack and Dr. Joyce go above and beyond for every single patient. As for education, she studied dental hygiene at the Pennsylvania College of Technology.
Regarding Michaela, our doctors love that she's always so upbeat with patients and a great communicator to boot! Everyone who visits loves her gentle but thorough nature while they're in the treatment chair.
Michaela currently lives in Sharpsburg with her Husky/Malamute pup Marshall. In her free time, she loves traveling to new places and eating good food. Her best friend Abby lives in Austin, TX so that's become a favorite travel spot of hers over time. She also loves everything to do with music and makes it a priority to stay active every day by lifting or taking Marshall to the dog park. Here's an interesting fact about her: she's an aspiring musician and currently learning how to play the piano, as well as write her own music!
Hannah, Registered Dental Hygienist
Hannah completed her Bachelor of Science at the University of Pittsburgh, and today, she's one of our team's newest members. As a dental hygienist, she loves getting to form such wonderful connections with the patients over time. She also adores her coworkers. Everyone is so friendly and welcoming, which makes it a joy to come to work every day.
What our doctors like most about Hannah is her gentle, caring demeanor while performing cleanings. She has a true talent for helping everyone who sits down in the treatment chair feel genuinely calm.
Hannah and her family hail from Pittsburgh, and most still live in the local area, which means they'll use any excuse to throw a fun family gathering! Some of her favorite activities are the pickle ball tournament and the chili cook-up. In her free time away from work, she enjoys going on runs or hiking. Here's an interesting fact about her: while in the 3rd grade, she and her friend took care of three abandoned baby squirrels until they were able to bring them to a wildlife rescue center.
Kimberly, Dental Assistant
Kimberly's career in dentistry spans nearly two full decades so far, and she couldn't ask for better bosses and coworkers here at Warwick Dentistry. Being able to help people and create beautiful smiles is an amazing experience every day! It makes her happy to see how happy each patient is after their treatment. She studied dental assisting at the Median School of Allied Health Careers.
Our doctors consider Kim to be an outstanding surgical assistant who is very knowledgeable about complex treatments like dental implants and bone grafting. Her calm personality instantly puts our patients at ease!
At home, Kimberly is the mother of a beautiful son and daughter – with a third baby on the way! Outside of the dental office, she spends her free time hanging out with family, doing outdoor activities, watching movies, bowling, eating, lounging at the beach, or going to amusement parks. Here's an interesting fact about her: she's six feet tall and has a heart of gold.
Melinda, Expanded Functions Dental Assistant
Melinda completed her Associates of Science at Harcum College and also has her training in expanded functions, which allows her to complete tasks like placing composite fillings, fabricating temporary crowns, and placing sealants. Today, she's been working in oral healthcare for well over a decade, and what she enjoys most about the work is helping patients overcome their dental fears! Knowing that she made a real difference for someone who started out very nervous always leaves her feeling appreciated and accomplished.
Our doctors appreciate that Melinda is extremely organized and detailed regarding her work. She takes excellent care of each patient and also makes sure they feel 100% comfortable at all times, which they no doubt appreciate.
Melinda and her husband Joseph recently married in December of 2019, and they have a Labrador Retriever named Brutus and an African Pygmy named Zippo. They're also excited to be growing their family with a little boy who is due in July of 2020! When she isn't busy at work, her favorite hobbies include being outdoors in the sun, hiking with her dog, and enjoying a movie and popcorn with Joseph. Here's an interesting fact about her: she considers herself to be something of a movie connoisseur! She really enjoys watching films of all genres and discussing them in-depth with friends and family.