Multiple Dental Implants – Pittsburgh, PA
Remove Gaps in Your Smile for Good
Most treatments designed to replace teeth only address the visible portion of teeth, rather than the entire tooth. When you choose dental implants to replace teeth, you can expect both the root and the crown to be replaced, ensuring a more natural-feeling and looking tooth replacement solution. Of course, anyone considering dental implants should complete a detailed consultation with Dr. Joyce and Dr. John Warwick beforehand. To set up your first implant consultation, give them a call!
Traditional Tooth Replacement Treatments
When it comes to replacing teeth without dental implants and surgery, you generally have three options to consider. This includes dental bridges, partial dentures, and full dentures.
Dental bridges are made up of several crowns fused together. The crowns on each end of the bridge are hollowed out so they can be placed on top of modified teeth. These teeth act as abutments for the bridge and ensure it maintains reliable stability. However, it also means teeth enamel needs to be removed.
Partial dentures work to replace multiple teeth on both sides of the mouth. The foundation is usually metal and made up of several clasps that wrap around existing teeth to stay in place. This allows the prosthetic to fit inside the mouth like a puzzle piece.
Finally, full dentures are ideal for those missing most or all of their teeth in their top, bottom, or both arches. They consist of an acrylic base and are filled with ceramic teeth to ensure the best esthetics possible.
How the Dental Implant Process Works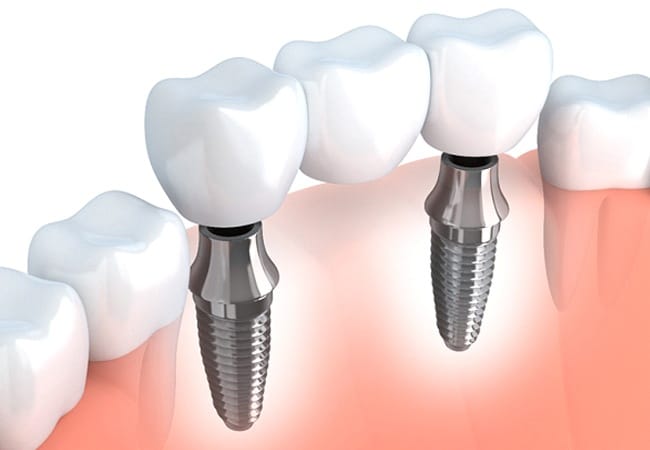 If you'd rather replace teeth with implant-retained solutions, such as an implant-retained bridge, you should expect treatment to last for at least four to six months. During the first phase of care, we examine your mouth and make any plans for preparatory treatments so you're ready for surgery. This could include extraction of remaining teeth, bone grafting, gum therapy, or another service. We'll also capture 3D cone beam scans in order to better plan your oral surgery.
During the second phase, we can place the implants into your jaw by creating small incisions in your gum tissue, then creating small holes in your jawbone to make room for the implants. Once the implants are secure, we can close the gum tissue and give them time to heal over the next several months. Following a series of follow-up appointments, we'll be able to place the permanent restoration with confidence, whether it's a bridge or denture.
The Most Notable Benefits of Dental Implants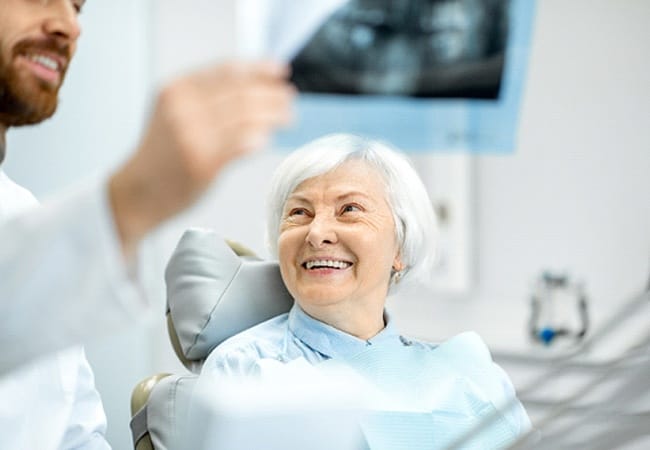 When you choose dental implants to hold replacement teeth, you can expect:
Stronger biting force and no trouble eating the foods you enjoy
The most comfortable and natural-feeling tooth replacement possible
Consistent bone stimulation, which promotes blood flow and prevents facial sagging and hollowing of the cheeks
Easy maintenance through routine brushing, flossing, and dental checkups
A long-lasting tooth replacement designed to last 30 years and longer